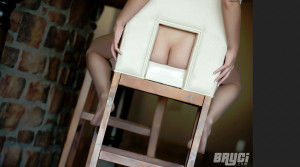 Mmmmmm. I often have callers who want to talk about specific girls they have seen online. I thought I might start a Monthly "Perve" entry in which I can share some of these gems with the rest of you.
Let's start with Bryci from yourdailygirls.
I was asked to pick someone out from a list of links, and I chose her.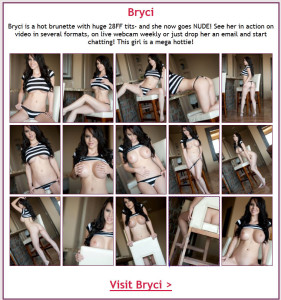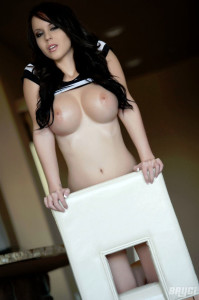 I'm a sucker for brunettes with beautiful pale skin, but there was something else that especially attracted me to this photo set: this shot: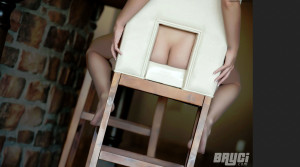 Mmmmmm, the shot below immediately inspires a scene in my head:
Just look at that gorgeous arse! You feel yourself getting hard just looking at that inviting crack.
She looks over her shoulder with that seductive smoldering look of hers, a coy little smile on her lips. Her hands grip the chair, waiting for you.
You press yourself up against the high-backed stool, watching her press her warm flesh back at you through the hole. That sweet arse, so inviting, so tight and warm against your rigid cock as it presses through the hole in the chair.
You're so wet with precum, your cock slides easily into that tight space between her arse cheeks. The slight and cool rasp of the chair on one side of you, combined with the pliable warmth of her flesh brings you close to cumming almost instantly.
Whatever are you going to grab onto to keep that chair stable? **WINK** Your hands fondle those gorgeous breasts as you thrust further and faster beneath her.
She wiggles and bounces deliciously on your cock as you slide forward over her puffy lips to her clit.
"Mmmmmm, cum all over me" she moans, her head arched back. You feel your cock pulse in response…
You are going to make such a mess.