Foot fetishes and shoe fetishes are surprisingly commonplace, and not only amongst those who identify as kinky.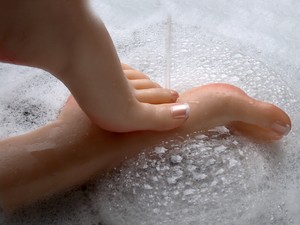 It seems that many men, and women too, find something highly erotic about feet and footwear. It doesn't seem to matter whether you are dominant or submissive, male or female. Some are into the footwear itself, and others find the eroticism in the fact that the footwear encases the foot of a lady – there seems to be a connection between the foot and the psychological connection that, if she wanted to, the lady could walk all over him, barefoot or suitably shod.
To some people, feet are about the biggest turn-on imaginable. A 2007 study published in the International Journal of Impotence Research found that feet (and their little piggies) were the most highly fetishized body part, with nearly half of the thousands of survey respondents choosing them over all others. Some men like to see pictures of feet, some men like to touch/rub feet, some men like to lick/kiss feet and some men like "footjobs".
Why? No one is entirely sure.  Some suggest it may simply be that feet lead to legs, and legs lead to genitals. There are some that say the turn on has to do with the assumed dirtiness of feet. They are what we walk around on all day, the very bottom of our body. It's a taboo and taboo equals turn on.
The most recent research seems to indicate that the area of the brain that is designed to recognize the form and sensation of genitals is right next to the part of the brain that is designed to recognize the form and sensation of feet. Dr Ramachandran of the University of California noted that "phantom limb syndrome" in amputees was sometimes associated with perceiving sexual pleasure in the missing limb.
Shoe fetishes are one of the most commonly encountered in the inanimate-object realm. This fetish is experienced by mostly men, mostly about high heels and sometimes about his partner wearing them during sex. There may be women out there with this fixation, but the majority of shoe fetishists (and fetishists in general, in fact), are men.